The Split Hospital's Pediatric Disease Clinic will be equipped with most modern e-classroom that includes a smart board, tablets, laptops and accompanying infrastructure with appropriate computer licenses and programs so that small patients can receive quality education during treatment. Part of the money will be also spent on specific teacher training for working in hospital conditions.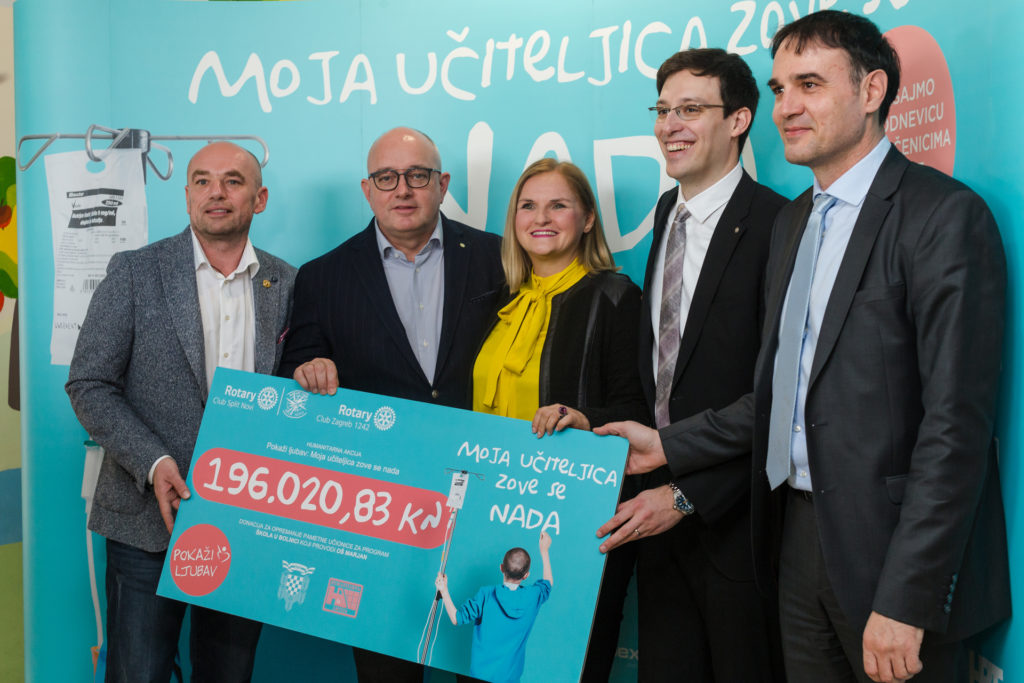 In this great collaboration of Rotary clubs from the south and north under the marketing name "My teacher's name is Hope", RC Split Novi and RC Zagreb 1242 raised HRK 196,000 to help approximately 350 children that will be educated in hospital, to ease their days in hospital, help them catch up with lost days in school, and make it easier for them to spend time in the hospital and show them that they truly believe in their healing. This humanitarian action is a continuation of the ongoing mission of RC Split Novi to help the children of the City of Split and the Split-Dalmatia County and to upgrade the successful cooperation of the Split Club and the Clinic for Pediatric Diseases of KBC Split which provided the youngest with financial assistance in the amount more than HRK 1 million in the past decade
I am proud of the synergy and friendship between RC Zagreb 1242 and RC Split Novi and I am immensely happy to hand over a check to elementary school director Marjan Zdenki Barović, whose school has been organizing classes at the school in Split Hospital for many years. At first, we believed that there was no above standard for our children, and we sincerely hope that in the future days spent in hospital will be much easier for our patients – said Dr. Josip Krnic, President of RC Split Novi.
After Klaić's hospital, it is KBC Split's turn. We are now continuing our humanitarian action further, and our goal is to provide modern schools with education in hospitals throughout the territory of the Republic of Croatia over the next three Rotary years. – added Darko Marjanovic, President of RC Zagreb 1242.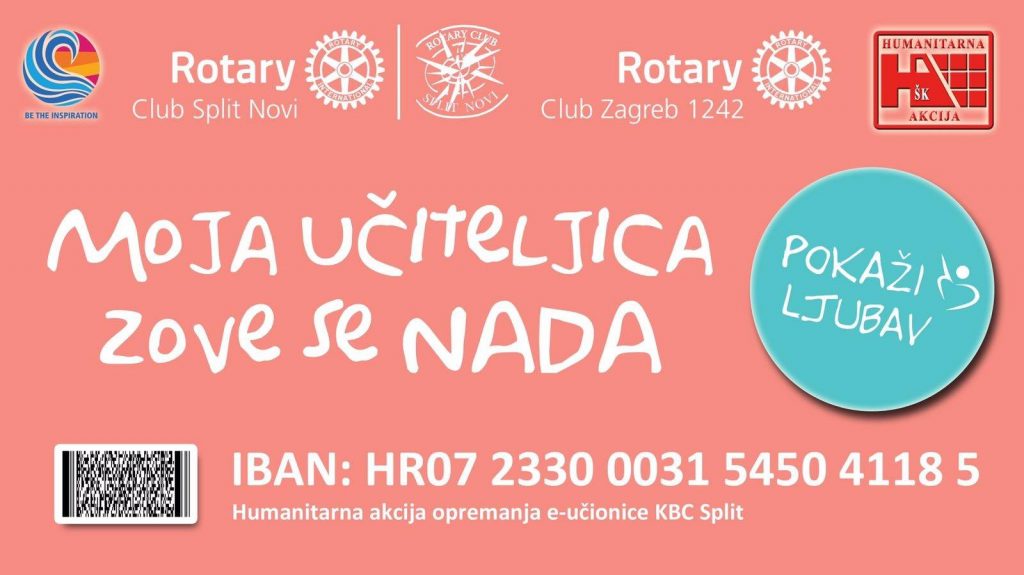 The humanitarian action began in early October with the Rotary Health Forum in Split, which was also organized as Rotary Day. The action was carried out solely with the own funds of RC Split Novi and RC Zagreb 1242. It was co-financed by the City of Split and the County of Split-Dalmatia, with a remarkable contribution to the action by the Swiss Corporate Office Erika Schwarz Stiftung.